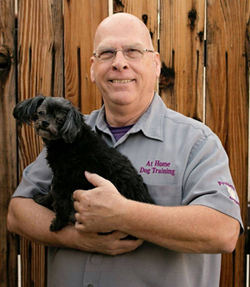 About Us
About Dennis the dog trainer: With almost 40 years experience, Dennis has a unique unparalleled insight into individual dogs behavior, he will incorporate what is best for your dogs needs. They are as different as people.
"My clients do not pay me for my time, they pay me for my knowledge and experience." ~ Dennis
What We Are:
• Dennis specializes in training both ends of the leash.
• At Home Dog Training is endorsed, referred, accepted, and trusted by local Las Vegas veterinarians.
• At Home Dog Training is the most recommended dog training program by previous clients, their family members, and friends.
• Dennis makes sure this is not just a temporary obedience program, but a lasting lifetime change.
• At Home Dog Training will supply ALL necessary training equipment (leash/collar) and an individual detailed tutorial guide designed for each client.
What We Are Not:
• At Home Dog Training is not a cookie-cutter dog training program. Dennis is not a franchise or national chain.
• There are no "add on fees" Dennis does not sell you products.
• No kennel training needed.
• No shock collars necessary.
• No choke chains necessary.
• No clickers necessary.
• No treats necessary.